Accelerated Detox Program

Dr. Jeffrey Simon, M.D., a doctor of The Coleman Institute Network provides his patients with more solutions for addiction detoxification and treatment.
The Coleman Institute, a nationally recognized leader in opioid addiction treatment. Beginning in May, Dr. Simon will be seeing patients in his Cherry Hill, New Jersey offices, offering a full range of treatment services including accelerated detox, Naltrexone therapy and aftercare planning.

The Coleman Institute treatment programs have helped thousands of people free themselives from the destructive effects of addition to Opiates, Suboxone®, Methadone and Alcohol. Our treatment program combined with Naltrexone therapy has helped many patients move beyond their addictions.

If you're ready to take the next step toward an addiction-free life, send us an email or give us a call today. You can find freedom from addiction — and we're ready to help.
Click Here to Learn More about Dr. Simon and The Coleman Institute's Accelerated Tratement Options.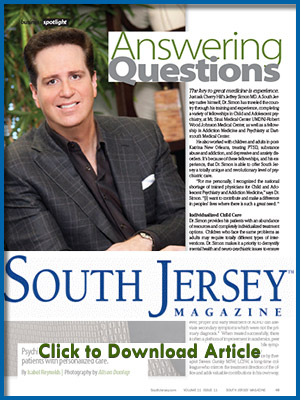 Located in Cherry Hill, Dr. Jeffrey Simon provides mental health treatment services to Camden County and Burlington County as well as parts of Gloucester County.
Dr. Simon's philosophy is he believes that the goal of treatment is to alleviate symptoms as rapidly as possible and to assist the patient in moving forward within their family, school, career, and community in a positive manner.
Dr. Simon is also a Suboxone/Vivitrol Doctor who is highly trained in addiction medicine and psychiatry and uses the latest technologies in treatment to become one of New Jerseys best addiction psychiatrists.
Dr. Simon takes a caring approach with all of his patients and as a addiction therapist he has the background training and experience to help you.

Vivitrol Licensed Provider
Take a moment to view Dr. Simon's wonderful patient testimonials - should you have any questions, please do not hesitate to contact Dr. Simon's office with any questions!